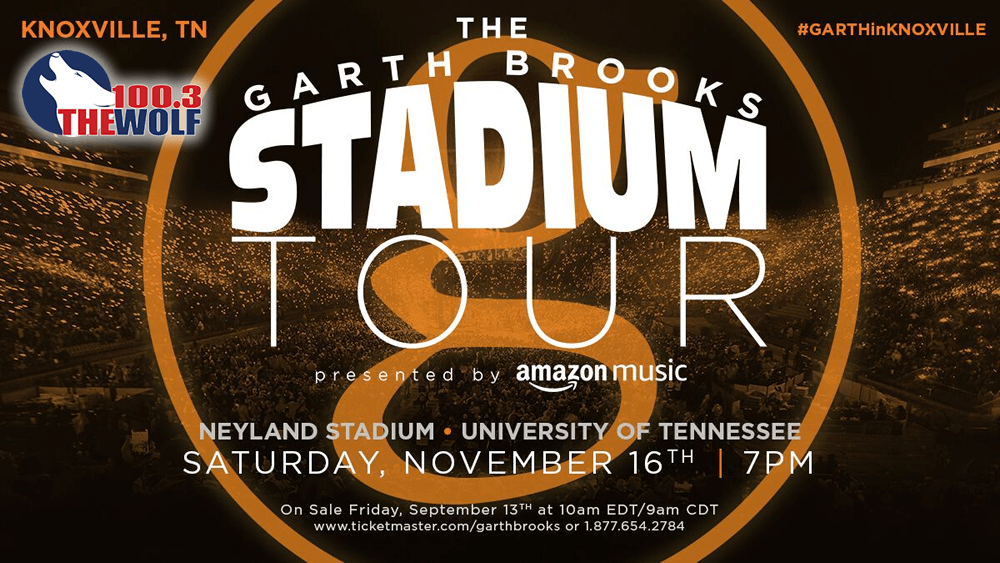 #GARTHinKNOXVILLE
FOR THE FIRST TIME IN 16 YEARS , AN EPIC STATEWIDE EVENT RETURNS TO ICONIC NEYLAND STADIUM WITH THE MOST ELECTRIFYING, EXPLOSIVE, AND MESMERIZING MUSICAL FORCE IN NORTH AMERICA!
!!! GARTH BROOKS !!!
SAUTRDAY, NOVEMBER 16TH AT NEYLAND STADIUM !!
LISTEN TO OPIE & CARINA FOR YOUR CHANCE TO WIN TICKETS
THE NUMBER ONE SELLING SOLO ARTIST IN US HISTORY
DUE TO AN OVERWHELMING DEMAND, MORE TICKETS WILL BE RELEASED AND AVAILABLE ON THURSDAY, SEPTEMBER 19TH AT 10AM
ticketmaster.com/garthbrooks
The Garth Brooks Line at Ticketmaster 1-877-654-2784
The Ticketmaster App on your mobile device
8 ticket limit
Ticket Price: $94.95 All Inclusive
SPECIAL NOTE:
Fans should go NOW to Ticketmaster.com/GarthBrooks and click on "Insider Tips" to create an account or refresh their existing Ticketmaster account for a quicker purchasing experience.