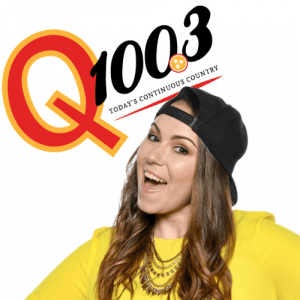 When you're not at work, are you a morning person or a person that likes to stay up late?

Definitely a morning person! I've always been the first to wake up. I love getting my day started. I feel like I've wasted a day if I get up late.

You're on the radio.  What do you like about being on the air?

I like having the ability to connect with people in a different way. We are always looking down these days and are attached to our phones so it's nice to wake up and have a conversation with people each and every day.

Where is your favorite place on Earth to visit?

Disney World. It truly is the Happiest Place On Earth and there is absolutely no way to walk up to Disney and not have a huge smile on your face!

Who is your favorite country artist right now?

This is a tough question. I don't really play favorites with artists, I do play favorites with sounds though. I've always loved Garth Brooks, Randy Travis, Shaina and Brooks and Dunn but right now I'm really loving Luke Combs, Carly Pearce and Morgan Wallen.

Do you own a pet?

YES and I couldn't live without him! His name is Smiley and he's a handsome Viszla mix. He loves attention, the sun and all the treats!

What is the best thing about country music?

The best thing about country music is the way we are all able to connect with it. There is a story for everyone. Heartache, love, trucks, pets, fishing and the list goes on. No matter where you are in life there is a country song that you can connect with.

What is your favorite charity or what causes do you think have the most value today?

Any charity that helps pets. Especially animal shelters. I hate to see any animal locked in a cage. I feel all pets deserve a good and happy home.

What is your favorite kind of food?

Amo il cibo italiano. I LOVE ITALIAN FOOD! Give me all the pasta and sauces and cheese! It's a dream and goal of mine to one day visit Italy and truly eat everything in sight. I want to be Julia Roberts in Eat Pray Love!

What is your favorite social media site?

I can't pick just one. Each serves a different purpose for me. Instagram is where I live and spend most of my time to catch up with friends, fashion, reality tv stars and pop culture. I usually end my day by spending too much time getting lost in You Tube videos. But if I'm feeling crafty or need some inspiration, I'm on Pinterest.

What is your favorite potato chip?

I'm not a big potato chip gal. But, I would have to say the lime flavored tortilla chips…with some fresh guacamole. Yummmm.

What gives you hope?

The Lord gives me all the hope I need. I know that if I trust in him everything will be okay.

Who is your favorite movie or TV star?

Julia Roberts hands down! Love all of her movies. I think she's iconic!

What is the best advice you've ever gotten?

Do what you love not what you're good at

Do you believe in ghosts?

I'm afraid to answer this out loud. For me personally, no. But I feel like it depends on what your definition of ghost is. Do I think there is a physical something I can see, no. Do I believe that there are signs sent by God from loved ones, absolutely.

Who is funny?

I think one of the funniest best friends duo's at the moment are The Rock and Kevin Hart! They put me in stitches with their Instagram shenanigans. I also think Ellen is super witty and hilarious. Also, Jennifer Lawrence. I feel like she is unapologetically herself in every aspect of her life.

What meal or food makes you think of your mom?

I'm going to switch this question to dad because I do not know my mom. True story. But the food that reminds me of my dad is broccoli. When I was little my dad made the best broccoli. He would cook it for my brother and I and we would literally eat the entire pot before he was able to finish dinner. I can only imagine this made him proud considering it was broccoli his kids were eating.

Who is someone you admire and why?

I have two people. First would be my dad. My dad did everything to make sure my brother and I didn't go without. He has always been a huge supporter of mine and has taught me some pretty amazing life lessons. My G-ma is the woman in my life. She helped raise me into the woman I've become. We have always had a very close relationship and I'm extremely thankful for the both of them.

Name three celebrities throughout time that you would like to have dinner with?

Walt Disney, Michael Jackson and Julia Roberts

How do you improve the lives of others around you?

I try to invest in them. Whether that's my time, advice or just being someone that will listen to them. I value the people I surround myself with and I want them to always know and feel like they have someone they can go to and trust no matter the situation.

What is your favorite sound you've ever heard?

My dog running toward me when I get home from work! It's literally the greatest feeling knowing someone is that excited to see you. It doesn't matter if it's been 2 hours or 2 min, his level of excitement never waivers.

Do you have a life philosophy you try to live by today?

Live life to the absolute fullest. You only get one.

Name three of your favorite movies?

My Best Friends Wedding, The Little Mermaid, Grease

If you could time travel, what time do you think you would like most to visit? 

The 50's! Soda fountains, poodle skirts, sock hops, drive in theatres. Back to when people weren't afraid of people and we interacted more.